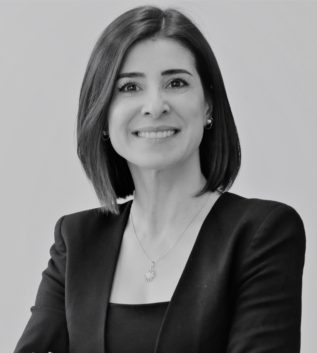 Att.Emel Yılmaz Özbay is an expert in litigation and consultancy of Banking and Finance Law, Structured Finance and Project Finance, Mergers&Acquisitions, Energy Law, Capital Market Law, Law of Contracts, Competition Law, Commercial and Corporate Law, GDPR and Personal Data Protection Law known as KVKK.
Emel Yılmaz Özbay graduated from Istanbul University, Faculty of Law in 2000 and is a member of the Istanbul Bar Association. Before the establishment of EY Law Office, she completed her internship in a private law office in Istanbul and started to work as a lawyer. She joined Koçbank in 2002 as a lawyer and took part in the consultancy and litigation team of the bank. She also supported the secretariat of the board of directors of the bank. During the period she worked, she took part and gained experiences in foreign partnership and integration activities due to the partnership of Unicredit Group of Italian capital with Koçbank A.Ş.
In 2004, Emel Yılmaz Özbay joined QNB Finansbank A.Ş. and she worked for 14 years in QNB Finansbank and most recently she worked as the Assistant General Manager of the Bank responsible for the Legal Department. While she was responsible for all consultancy (FI, Treasury, Cash Management, Project Finance and Syndication, individual and commercial products, card and card-related products, etc.) and litigation affairs at the Bank, she also personally participated, as the Secretary of the Board of Directors to run the organization of all the meetings of the Board of Directors and the general assemblies.
Emel Yılmaz Özbay was in the "GC Powerlist of Turkey" which was prepared by the collaboration of Legal Business, GC magazine and The In-House Lawyer under the Legal 500.
She has been included in GC Powerlist 2017, highlighting the most influential in-house lawyers driving legal business forward in Turkey.
She took part in many domestic and foreign projects during the period she worked at the bank, took an active role as leadership in both domestic capital (Fiba Group) and foreign capital (NBG Group, IFC, QNB Group), worked in data rooms/DD, share transfer and integration processes.
Also, she worked personally on issues such as the first subordinated loan utilization, Turkey's highest value of real estate sales, the banking sector's first derivative transaction disputes, and she leaded the banks' integration in the changes of intensive/extensive legislation which was affective in the finance sector (e.g: New Turkish Commercial Code, New Obligation Code, Capital Markets Code, E-Commerce, Law on the Protection of Consumers, GDPR, Personal Data Protecton Law known as KVKK, etc.)
contact details
Akat Mah. Zeytinoğlu Cad. Arzu 2 Apt. No:4 K:5 D:26 34335 BEŞIKTAŞ / İSTANBUL / TURKEY